Contributors
Links
Archives
This site includes the postings from the Irish Aires email list. This includes a listing of Irish/Celtic events in the Houston area and other information that the Irish Aires radio program posts.
Thursday, April 04, 2013
Celtic Thunder's Keith Harkin on Irish Aires this Saturday
Live interview 04/06/13
Celtic Thunder's Keith Harkin at 6:15PM
on Irish Aires
Keith Harkin comes from County Derry in Northern Ireland, where he started performing for the public at the tender age of four, wowing audiences with his beautiful voice and musical talent. Now at 26, Keith has played to audiences across Europe, Australia, the USA and Canada. He has performed at the Tavistock Festival in the UK, and at the Glasgowbury Festival in Northern Ireland for the past five years and has composed and recorded songs for the BBC show Dha Theanga, an Irish program on the BBC in which he played a lead role.
Keith started out as a guitar-playing singer-songwriter, and has recently released his debut solo album. He is one of the first artists signed to the Verve Records under the new leadership of Chairman David Foster, the Grammy® Award-winning producer who also served as Executive Producer on his self-titled solo CD. The album's twelve songs, split between classic covers and original compositions, illustrate Keith's gifts as both an interpreter and a writer. As a huge Van Morrison fan (like any self-respecting Irishman), he takes special pride in his version of "Have I Told You Lately That I Love You," done as a duet with Colbie Caillat. The song selections truly reflect Harkin's musical passions—"I've learned that there's nothing worse than doing a song you don't love," he says.
Although he has released his solo CD, Keith still continues his integral role within Celtic Thunder as one of the show's six vocalists. In 2013 Keith will tour Australia, the US and Canada with Celtic Thunder bouncing back and forth between Celtic Thunder shows and the exhausting responsibilities that surround the launch of a new record. As an avid surfer, though, he's not afraid of taking risks, and is able to enjoy the sense of artistic achievement he's already attained.
His career with Celtic Thunder began back in 2007, when returning back to Derry from a recording session in London, Keith heard about the auditions for Celtic Thunder that were underway and decided to chance calling in just as the auditions were wrapping up. He auditioned and was immediately invited to attend the final auditions in Dublin, and was ultimately selected as one of the principals for the Celtic Thunder show. The self-described "singer-songwriter-surfer" did not fit into any particular role in Celtic Thunder. "I'm just doing what I'm doing, being myself," he says. "I don't really have to play a part. I just get up there with my guitar, and I get to perform." Keith has toured with Celtic Thunder since the show's inception and is featured on nine specials for Public Television and on 9 CDs and DVDs, which have sold millions of units worldwide. The latest Celtic Thunder show Mythology will be released in the US and Canada in February 2013 and will be aired on Public Television stations across the US in commencing March 2013.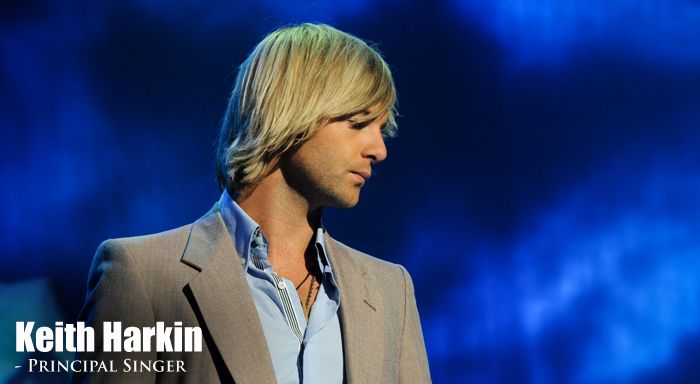 jay