Contributors
Links
Archives
This site includes the postings from the Irish Aires email list. This includes a listing of Irish/Celtic events in the Houston area and other information that the Irish Aires radio program posts.
Friday, March 08, 2013
Harold Herrington, Irish Rogue, Passed away 03/03/13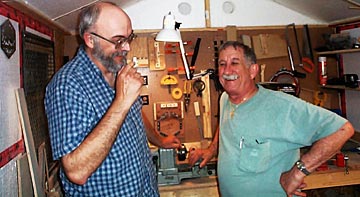 (Harold on the Right)
I have some sad news to pass along and also to all of you. 
My good friend and fellow Irish Rogue member Harold Herrington passed away on Mar. 3. 

We had a service and a wake for him on Wednesday Mar. 6 and sent him off right. 

Some of you may remember Harold as the banjo player, along with John Hodgins and myself who comprised the Irish Rogues for some years. John was in attendance and did some tunes with us at the wake. 

Please feel free to pass this info to whoever might have known Harold. He'll be missed. 

Thanks all, 

Red McWilliams


Herrington, Harold Howard Age 77, of Rowlett, TX, died on March 03, 2013. Service 2pm, Weds., March 6, 2013 at Rest Haven Funeral Home-Rowlett Chapel.
The 
Irish Rogues 
are an authentic, traditional Celtic/Irish Pub band that performs a rich collection of rollicking sing-a-longs, ballads, Celtic folk music to include bluegrass and Old-timey styles, along with brilliant, danceable instrumentals that originate from Ireland, Scotland, Australia, and many other parts of the world. The 
Irish Rogues
 band was created by Irish emigrant 
John Hodgins
 and his good friend 
Harold Herrington
 in 1981. The band was immediately hired by Nick Farrelly, Dublin born, and the owner and proprietor of Nick Farrelly's Lounge in Dallas, Texas. Fondly referred to as the "NFL", Nick's pub was true Irish in those early days, before "Irish Pubs" were to become fashionable in Dallas.
The 
Irish Rogues
 have played music continuously throughout the years and have appeared regularly at almost every local Irish pub and Celtic celebration and event. Band members have been featured performers at the 
North Texas Irish Festival
 in Dallas since the festival started in 1982. As part of their style of playing, they get folk to join in with their music with the use of sing-along booklets, and they frequently encourage old and new musicians to join in the fun with them.
When John retired in 2012, he left the rich legacy of the Irish pub music traditions with Earnie Taftand David Sparks. They immediately teamed up withSteve Harrison who provides an amazing array of instrumental skills and singing to not only continue the pub music style of music, but to begin building the band to win over a whole new generation of folk into the Celtic music traditions found throughout the world.
The Irish Pub music experience is to have fun with all forms of music that has a full spectrum of emotion. The Irish Rogues make music fun. 
From time to time, theKelticDead (Shaun - Patrick Young) joins us with his diatonic harmonicas in his Celtic-style of play. 
It's all part of the pub music experience and fun.