Contributors
Links
Archives
This site includes the postings from the Irish Aires email list. This includes a listing of Irish/Celtic events in the Houston area and other information that the Irish Aires radio program posts.
Wednesday, April 04, 2012
Constant Billy 'Springs Into Action' This Sat at Waldo's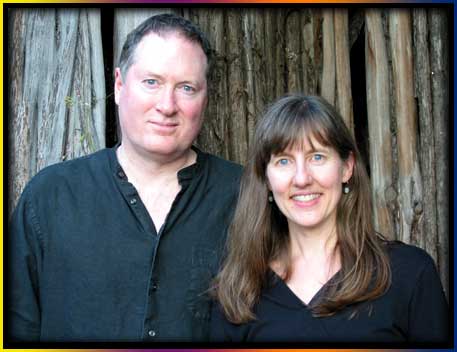 THIS SATURDAY, April 7 2012 from 7:30-10pm Constant Billy will spring into action at Waldo's Coffee House! Small room, an early evening and truly phenomenal music. Come getchew some- you won't regret it!
What: Constant Billy performs trad and original music with panache!
Where: 1030 Heights Blvd, Houston, TX 77008 (713) 869-0700. Free parking in front and in back.
When: THIS Saturday, April 7 2012 from 7:30pm-10pm.
How Much: No cover- we'll pass the hat. $5 per person to BYOB.
---
Thanks for supporting Live Music played by Live Musicians!
Emily Standish
Bill Galbraith
"A new day has dawned. There's a new band in the neighborhood, Constant Billy." Take the traditional music of Britain and Ireland. Shake and stir in a little Rock, Classical and Swing using "an incredible, eclectic repertoire of intricate harmonies" from "probably the best all-around folk a-cappella singers in Houston."Add in the accompaniment of Bodhran, guitar, tin whistle, recorder and bouzouki to create "stuff you just don't hear every day." Add a dash of "hilarious between-songs banter," and you have a duo that will leave you reeling. Constant Billy is the "GREATEST CELTIC VOCAL GROUP IN TEXAS!"
.
Emily Standish - vocals, tin whistle, recorder and percussion.
After years with Houston Symphony Chorus, and as featured soloist with several theater groups including Houston Revels and Trinity Opera Theater, Emily began singing with smaller ensembles in 1997. Has worked with the popular folk group Furagh Larq and the Early Music a cappella groups Voces Dei and Piping Rock Singers. A powerful and passionate performer, Emily "sings with a purity of sound that is a joy to hear" and has "A voice like honey melted into crystal."


Bill Galbraith - vocals, guitars, and Irish bouzouki.
Began playing in a rock group at 12, switched to Trad in 1977 as a founder of Freeborn, the first professional Celtic band in Texas. Moved on to the folk-rock group Four Bricks out of Hadrian's Wall and sang doo-wop in Dr. T and the Tuxtones. Later worked with the a cappella band Nobody's Reel. Has performed at festivals and clubs in Britain and America, and has extensive TV and radio credits including appearances on National Public Radio's All Things Considered and live internet performance.